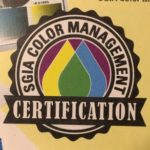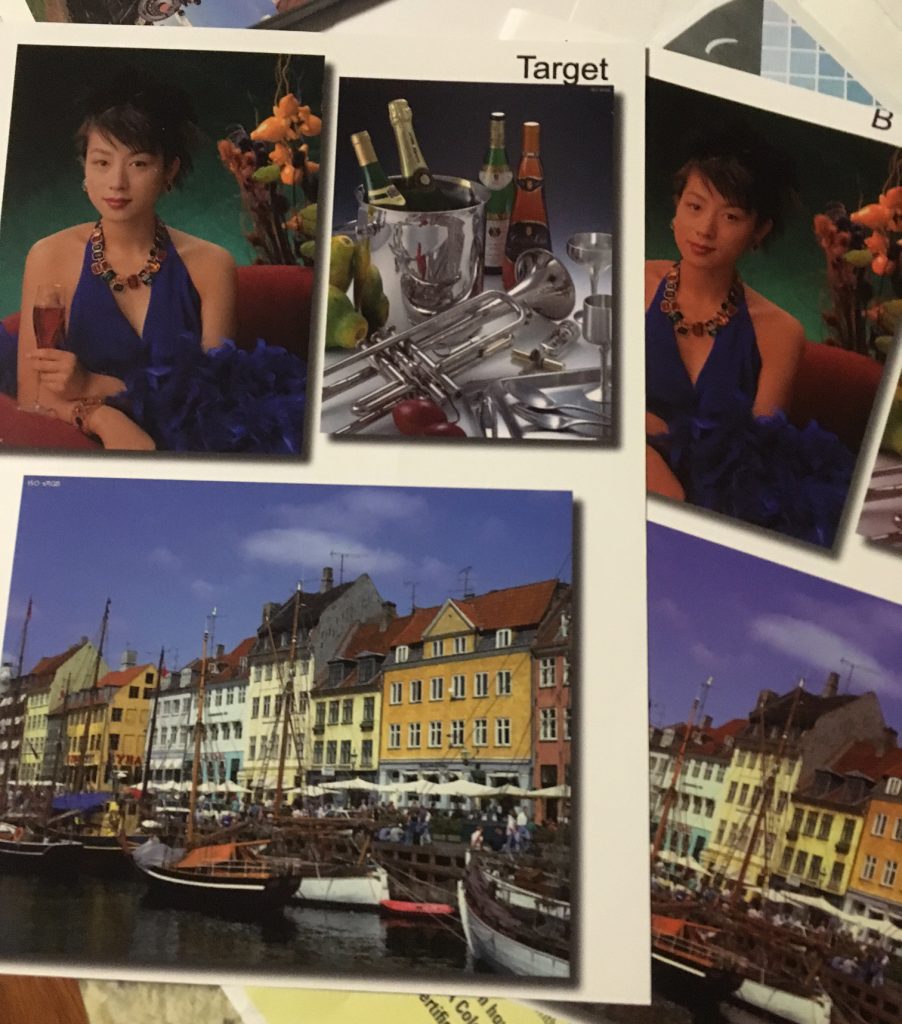 Last month, I was fortunate enough to attend one of SGIA's quarterly Color Management Boot Camps. Now I want to tell you about my experience and why I believe the boot camp would be beneficial for anyone who works in print.
How is the boot camp structured?
The Color Management Boot Camps are coordinated by SGIA's Ray Weiss who is a Digital Imaging Specialist. He brings in several industry experts as instructors. The instructors range from color consultants to RIP representatives to printer specialists. (Disclosure: ColorMetrix CEO Jim Raffel is one of the instructors.)
The quarterly boot camps are three days long; typically Tuesday through Thursday. They are held at the SGIA corporate office in Fairfax, Va. Each day starts at 9 a.m. There are several breaks worked into the agenda throughout the day but lunch is provided on site to maximize everyone's time.
The boot camps are kept to 20 attendees; so they fill up quickly. But the small size allows for more one-on-one discussions and a better overall learning environment.
What is covered during the boot camp?
While each boot camp is probably structured a little differently, the one I attended started out with a day of discussion on the basics such as color theory, color management strategies, anatomy of the inkjet printer and measurement variables.
Most of the hands-on work occurred during the second and third days. We broke out into groups based on the RIP being used back home in the shop. (Most of the attendees were from print facilities. As a consultant, I chose to join a group focused on a RIP I hadn't yet worked with: Wasatch. The biggest group by far was the Onyx group.)
In the breakout groups, we walked through media configurations and profiling. We used spectrophotometers to verify our prints. We learned about ink limits, curves and spot colors. Lastly, we learned about different software that can be used for verification.
View an example of a Color Management Boot Camp agenda.
How to get certified as a color management professional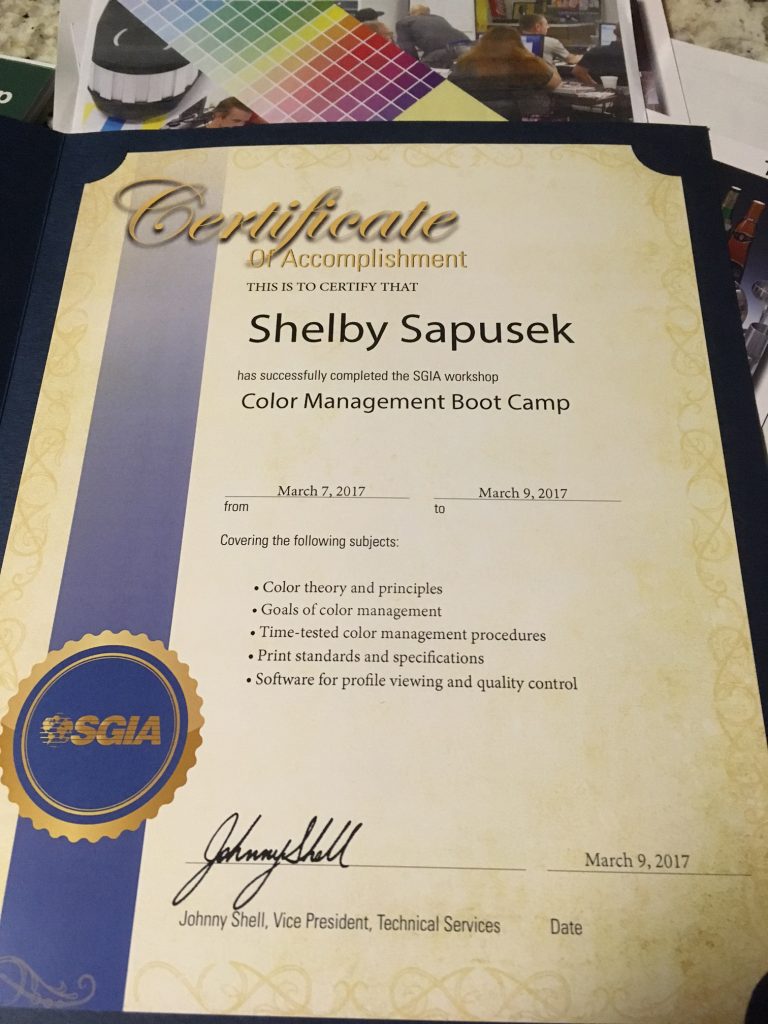 On the third and final day of the boot camp, all attendees will be given a certificate of completion. (Mine is pictured.) But my boot camp was the first one to also offer the SGIA Color Management Certification.
To get the certification, the attendees were given a 50-question test on the last day of the boot camp. However, they were allowed to take it back home and use their notes to answer the questions as long as the test was returned to Ray within 10 business days. (Note: Taking the test is optional but necessary if you want certification.)
Luckily, I'm an avid note taker. Each attendee was given a spiral-bound notebook with the slides of each presentation. But in my boot camp, the slides weren't always followed exactly or in some cases even used. And here's one of my criticisms: The content on the slide images in the notebook in many cases are too small to be read anyway. So my advice is take a lot of good notes. I've taken the test and many of the answers cannot be found by scanning the slides alone.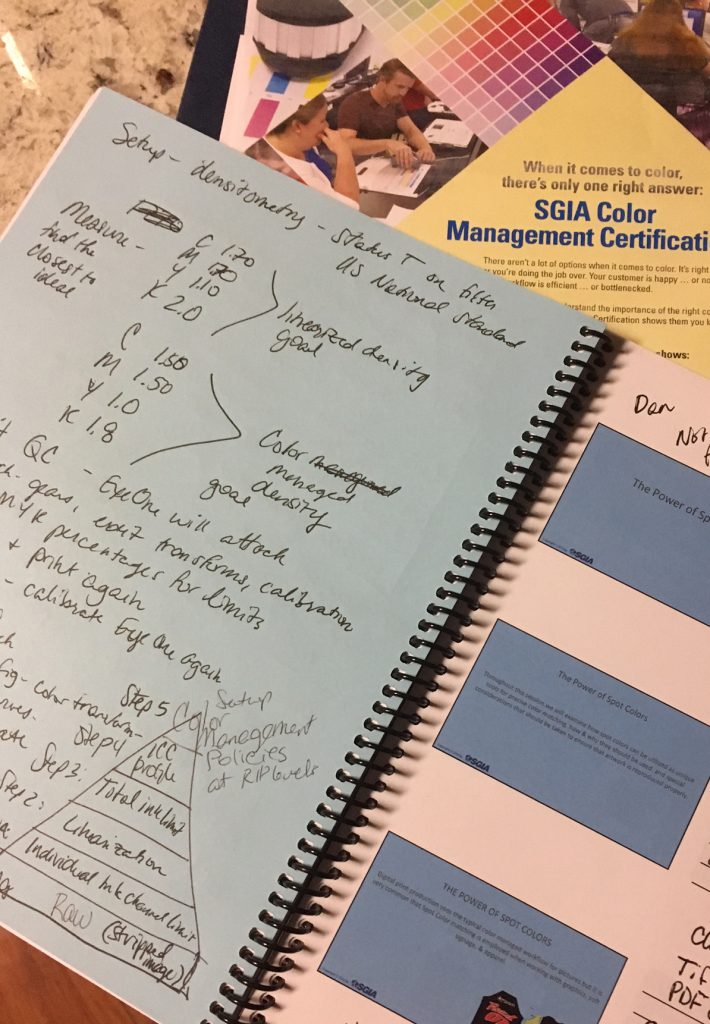 I passed the test!
Yes, I recently found out that I passed the initial test. But that doesn't award me the SGIA Color Management Certification yet. If you pass the test, Ray emails you to let you know and includes a link to download a test print.
Now your goal is to take what you learned during the boot camp and use it in your facility. You need to take that test print and color manage it using the tools and knowledge you've acquired. You send that back to Ray and he will measure and verify it. If it passes, you can start using the SGIA Color Management Certification badge!
(Unlike most of my fellow attendees, I don't work in a print facility. I am currently making arrangements with a colleague so that I can work on my print.)
What kind of investment do you have to make?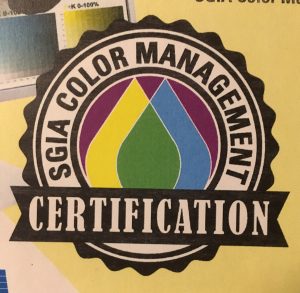 At the time of this writing, the cost to attend the Color Management Boot Camp is $599, but SGIA members will enjoy a 25 percent discount. Travel and accommodations are not included. Lunches are provide all three days of the boot camp.
Also as of the time of this writing, there is no additional cost to take the test and return the color managed print to acquire SGIA Color Management Certification.
However, if your print facility doesn't have a spectrophotometer or certain software for calibration and verification, you will need to make some investment in those areas too. And at least one of my fellow attendees indicated that they intended to suggest a RIP change for their shop after attending the boot camp.
My biggest takeaway from the Color Management Boot Camp?
As a color management consultant, I have and will recommend the boot camp to my print industry friends because it did three things for me:
Allowed me to interact with people who have a common interest to provide customers and clients with great quality prints.
Challenged me to work with different RIPs, software, spectrophotometers and strategies to achieve that goal.
Most importantly: Drove home the fact that it is indeed possible to attain – and maintain – consistent, predictable, repeatable color.
I started out by saying I was fortunate to attend the SGIA Color Management Boot Camp. That's absolutely true. If you work at a print facility and for a company that is willing to invest in you and your education so that they are ultimately investing in the quality of prints for your customers, I highly recommend attending this boot camp.
Below are dates, links and availability (as of this writing) for the rest of the boot camps in 2017: