ProofPass G7 and SAi Flexi
We recently teamed up with our friends at SAi to produce a webinar on how to use ColorMetrix ProofPass/G7 and SAi Flexi to build ICC profiles that conform to the Idealliance G7 specification.
The advantages of G7 are many; but the single most important thing is the ability to achieve a common visual appearance across printers, substrates and ink technologies.
We invite you to view the webinar and be sure to stick around until the end. Our attendees asked some very smart questions that added even more value to the overall discussion. Contact us if you'd like to learn more about how to build ICC profiles with ProofPass/G7 and SAi Flexi.
Your Color Toolbox: Solving Process Control Problems (With Gray Balance)

During this webinar, we looked at lighting and color viewing, which are important variables to consistently match critical brand colors. With the correct selection of tools in your color toolbox, almost all color process control problems can be solved. During the session, Jim Raffel highlighted six significant color problems and then discussed how to use one or more of the tools in your toolbox to solve the issue. By the end of the session, attendees understood why they need these six tools in their color toolbox: color viewing booth, color calibrated monitor, Pantone book, spectrophotometer, software and a magnification loupe.
Who Should Watch:
– Company Owners
– Pre-press Team Members
– Production Managers
Introducing the Summer 2014 Release of ProofPass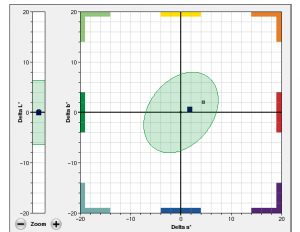 The Summer 2014 release of ProofPass is out! If you are a current subscriber, you have no doubt seen some of the exciting new features we have included in this release. Here is a short list of some of those features:
Added enhanced search
Added Delta L*a*b* graph with appropriate tolerance circles for all swatches
Added feature to convert any sample set into a custom reference
Added ability to generate a single multi-page PDF document containing reports selected by the user

Enhanced grey analysis feature to allow for comparison of current measurement to a custom reference or a previously stored measured value

Enhanced dataset copy functionality so that a copy of a dataset can be created without any samples in it
New color bar formats

Numerous bug fixes and minor enhancements

Numerous improvements to client software for speed and stability improvement

Now supporting XRite iOne, 530, 939, and eXact (PC Only)
We know that some of these features need some further explanation so that's why we are hosted a webinar Friday, June 13, at 10:30 a.m. CST to show you how they work. Following is a recording of the webinar: