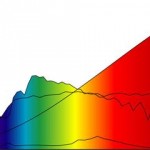 This is based upon a past post at JimRaffel[dot]com: #16 Matamerism & Color Management (yes, with spelling error – that's another story).
Let's take a look at the visual spectrum and some of the different ways we work with the spectrum on an everyday basis in our industry.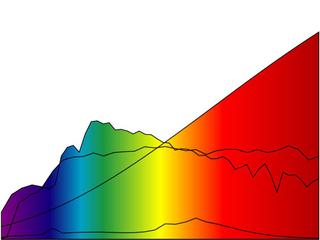 For our discussion Metamerism is…
When two color samples appear to match under a particular light source, and then do not match under a different light source, this is an example of "sample metamerism." One can conclude that the spectral reflectance distributions of the two samples differ, and their plotted reflectance curves cross in at least 2 regions.
The next image shows 3 examples of the GATF/RHEM Light Indicator which is printed with 2 magenta colorants which are a metameric pair. In this case when viewed under proper graphic arts lighting (5000K), the two colorants appear the same color. When viewed under other light sources you can see the two different colorants.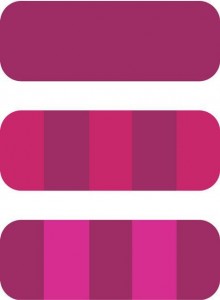 The RHEM indicator is a great tool, because it comes in rolls with self adhesive backing, so one can purchase them from GATF, and attach them to color proofs going out to a customer. If the customer is complaining about color a simple question about the appearance of the indicator will let you know if they are viewing the proof in 5000K lighting.
Color Management is one solution to the metamerism that exists between ink jet proofing ink and media combinations, and pressroom ink and paper combinations.
Color Management also solves the problem of soft proofing metamerism that exists because of the way displays (CRT or LCD) are illuminated. Without Color Management there would be virtually no way to match ink jet or soft proofing devices to ink on paper printing presses. Because these colorants are metameric it is increasingly important that all viewing of color occur under proper 5000K lighting.