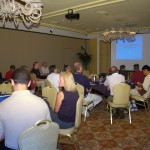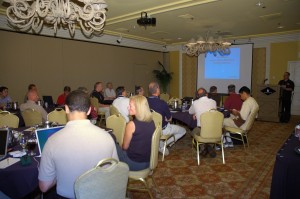 In August of 2001, we held the first ColorMetrix User Group meeting. It was a small gathering of folks in our hometown of Milwaukee. We all learned a bit, shared our successes and failures with ColorMetrix products and had some fun. It was the inaugural season of Miller Park and we took in a Brewers game. A month later, the world changed forever but we kept having User Group meetings for four more years. Then, we didn't; and I wish I could tell you why but I don't have a good answer.
April 26, 2011 at Luxor Las Vegas that changes.
The ColorMetrix team will be at SignExpo in force this year so we figured why not revive the User Group in the City where it was last held? We are going to keep the meeting to a single day (and night as we have a very cool thank you party planned). The meeting will take place on Tuesday with our thank you party to follow in the evening. Then, on Wednesday, the SignExpo educational events get underway way. The expo opens on Thursday and runs through Saturday. So, not only can you attend our User Group, but you can also attend the sign event of the year.
Our Agenda – Color in the Cloud
As in years past, we will provide a keynote speaker to highlight the usefulness of ColorMetrix products in their business. Five year ago, most of the talk was about ColorMetrix; our namesake product. This time around the focus will be on our cloud-based solutions like ProofPass.com and others to be introduced and announced at the meeting. We'll round out the day's sessions with tutorials and practical application case studies from your user peers in the ColorMetrix community.
Start Planning Now!
Since you're likely to attend SignExpo as well as our meeting, why not take advantage of the great rates they have arranged? Or, it's Vegas, so pick your favorite property and make your best deal! The Tuesday night party will be held in a high roller suite at Luxor if that influences your planning at all.
Airfare is always cheap to Vegas; but it never hurts to shop early. We'll be locking our fares in by the end of the month.
User Group Fee – As in years past, we are keeping this affordable. For $247, you get the all day meeting which includes breakfast and lunch. You also get admission to our high roller party in a killer suite at the Luxor.
Here's the hitch – The meeting will be strictly limited to the first 50 folks to sign up. That's all the room will accommodate, and with SignExpo in town, even that room was tough to set up at this late date. Sign up today, get your room and air booked and we'll see you in Vegas April 26th!