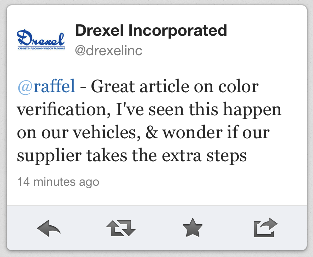 The customers who utilize our tools most successfully would prefer we not tell you who they are and how they utilize our products and services. As most of you know, the graphic arts industry has become quite competitive; so when you find something that works well and provides you an advantage, it's understandable you'd rather keep that to yourself. Instead we have to rely upon our story telling ability, like last week's blog post that generated the Twitter feedback shared as the image with this post.
And testimonials
Some of our customers are willing to provide broad overarching statements about the quality of our products and services like these:
"We're committed to your product. I will gladly renew my support. It's a terrific value for what you and your company have offered us!" – Ken Pavett, Flexografix

"Some things are not about getting price down to the lowest level. Support is very important to me and always has been. I appreciate you guys. You do a good job."
Dan Victory, Global Technical Director Digital Plates Presstek Inc.

"It is excellent both for use as a press quality control tool (trending) as a press sheet analysis tool (characterizing) and in comparing digital proofs to a press sheet (ProofPass). I personally give it a five-star rating."
Jerry Adams Formerly, Agfa Technical Manager (semi-retired) San Antonio, Texas
We share this kind of feedback in our sidebar on our website every day; but it doesn't really tell you how our customers successfuly utilize our products to gain a competitive advantage.
Generic stories
If we keep the stories generic, we can give you a taste of how folks are successfully integrating out products like ProofPass.com into their production workflow.
ProofPass.com for the in-plant: There is a financial services firm that hosts a dedicated ProofPass server behind their firewall. They utilize this server and several ProofPass client applications to monitor, trend and control the color for a fleet of digital presses. By running a test sheet at the beginning and middle of each shift, they are able to monitor machine health and determine the appropriate interval for preventative maintenance for their required color quality level. They can also run a test sheet immediately prior to any production of critical color work.
The multi-national magazine printer: When one of the world's largest commercial and magazine printing companies needed an enterprise solution to monitor proof quality, they selected ColorMetrix and our ProofPass.com client/server technology. A single ProofPass server allows them to monitor inkjet proof quality in about 100 locations. On a daily basis they can ensure the proofs they are making comply with industry specifications like SWOP and GRACoL.
It works for single location operations too
Our previous two examples feature large organizations who appreciate the enterprise capabilities of a client/server color verification and process control solution. Many of our customers have a single ProofPass.com subscription supporting a single location or even a single color output device. Even in that environment, the ability to measure on one workstation but then view the results anywhere in the world on a web browser has great value. It means that the smaller organizations can grant access to their color measurement results to color gurus anywhere in the world. This oftentimes saves the need for an expensive service call and gets production up and running much more quickly.
And what about you?
Are you an end user of ColorMetrix products and services? If you are willing to share your success story with our products and services, we'll feature it right here on our blog. You don't even have to do the writing. We'll have Shelby with her 17 years of journalism background contact you for a phone interview. Then we'll promote the story – and by extension you and your company – to our social media and email newsletter audiences.
Interested? Fill out our contact form or give me a call directly at 262-314-4128.