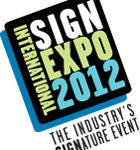 Next week, we will be traveling to Orlando to participate in International Sign Expo 2012. We will be joining our partner Mutoh America in their booth #1662 during the trade show.
The ColorVerify agenda
ISA will be held March 22-24 at the Orange County Convention Center. During those three days, our CEO Jim Raffel will be giving live demonstrations of the software we have developed as part of the Mutoh ColorVerify solution, a cloud-based color verification service.
ColorVerify comes free with the purchase of Mutoh's 1324 and 1624 wide-format printers. Combined with Mutoh's SpectroVue VM-10, an onboard spectrophotometer, ColorVerify helps users gain control of their process and workflow to ensure consistent quality printing.
Take it a step further with ColorVerify Pro
When you purchase a Mutoh 1324 or 1624 printer, you also receive a free 90-day trial of ColorVerify Pro. The professional version takes color verification and process control even further by storing both your baseline measurements and test measurements on an internet-based server. Jim Raffel will also be demonstrating this powerful pro version at ISA.
Join in on the celebration
We are pleased to take part in Mutoh's 60th anniversary celebration during ISA. It will take place in Mutoh's booth #1662 on Friday, March 23, from 3:30 to 5 p.m. Stop by for refreshments and special giveaways that afternoon.
Would you like a personal demo?
Jim Raffel will be available at various times throughout the three days of ISA and would be happy to give you a personal demonstration of ColorVerify at your convenience. Feel free to email him at raffelj@colormetrix.com or call him at 414-732-6954 before or during the show to set up a time. Demonstrations are usually less than 30 minutes.
See you at ISA!