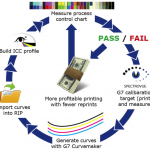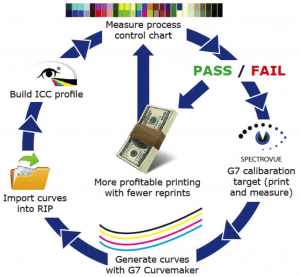 The ColorMetrix team is headed to Orlando this week for the annual SGIA Expo. SGIA Expo has a focus on specialty printing and imaging technology and we are excited to announce we have some new technology to share!
We have worked with our partner Mutoh America to implement the G7 method into our ColorVerify software solution for color process control. This G7-based calibration replaces the traditional TVI-based linearization step common in most large format RIP software. It allows the printer to be calibrated to G7 aim points prior to building an ICC profile. The G7 foundation becomes the baseline condition used by ColorVerify to check for color drift over time due to ink, media or environmental variables.
During SGIA, we will be in Mutoh's booth #248 and we would love to give you a personal demonstration of ColorVerify and the implementation of the G7 methodology. If you're going to be at the show and would like to schedule a demo, contact project manager Shelby Sapusek via our contact form and we'd be happy to meet with you to show you this exciting new technology.
If you can't make it to Orlando this week for SGIA or would like a preview of this G7-based color process control solution, please see our Color Control Myths and Mysteries webinar series videos that we conducted with Mutoh over the past month.
We hope that you will stop by and visit us at SGIA. See you in Orlando!
Note: G7 is a registered trademark of IDEAlliance. It is a specification that defines the variables used to reproduce a consistent grayscale across multiple devices, print processes, ink and media.