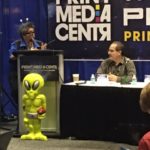 This year's Graph Expo was held in sunny Orlando at the end of September. Our CEO Jim Raffel was there to represent our friends at Mutoh America on a panel called "Cleansing Your Palette: The Fresh Taste of Color." The discussion was held in the Printerverse booth on the second day of the show.
You could taste the importance of color management
The panel focused on specialty inks, creative color use and color management across multiple devices and substrates. During the discussion, Raffel explained how our ProofPass software (referred to as ColorVerify in the Mutoh world) helped the printing company achieve consistent, repeatable color in all of their environments. Panelists also included representatives from Xerox, Canon and HP.
We don't want to give everything away. If you missed the panel at Graph Expo, you can view the "Cleansing Your Palette: The Fresh Taste of Color" discussion in its entirety by clicking the button below. It was a lively discussion!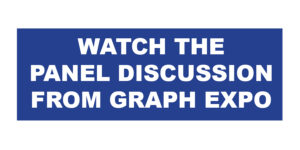 Also, here are some photos from Graph Expo 2016.
In other news …
It's been great sharing success stories about our ProofPass/G7 software powered by the Idealliance G7 certified G7 Calibrator (by Mutoh) which we first debuted two years ago at SGIA Expo in Las Vegas. And we were so excited that one of our clients won two Golden Image awards at this year's SGIA Expo also in Las Vegas. They said the awards were a direct result of our onsite color management services and ProofPass/G7 software.
This week, Idealliance launched a new "microsite" exclusively for housing G7 related tools, links, documents and an interactive forum. Take a look. Our CEO and G7 expert Jim Raffel is searchable in the site database.
Have you had a color checkup recently?
We are offering a free color management needs assessment quiz. All you have to do is click here to take the short quiz. Then give us your name and email address and we will send you your grade. How great is your color management knowledge?