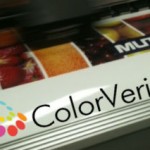 ColorVerify, a product co-developed by ColorMetrix and Mutoh America Inc., launched at Graph Expo Chicago in mid-September. We are pleased to announce the continuation of the launch of this exciting color process control system at SGIA Expo 2011 in New Orleans Oct. 19-21!
ColorVerify is a two-part system that includes ColorVerify, an on-printer color checking function, and ColorVerify Pro, an Internet system built on the successful ColorMetrix ProofPass technology. Both are designed to enhance images and reduce costs. In our partnership with Mutoh, the software comes standard on their ValueJet 1608HS Hybrid printer, and can be equipped to the new ValueJet 1324 and 1624 printers. Mutoh's on-board spectrophotometer SpetroVue VM-10 sends measurements based off a control strip to cloud-based ColorVerify to ensure consistent color.
During Graph Expo Chicago, ColorMetrix CEO Jim Raffel gave daily demonstrations of ColorVerify and why process control is important. At SGIA later this month, the ColorMetrix team will again be giving demonstrations in the Mutoh America booth #2133.
We invite you to stop by the Mutoh America booth during SGIA. We'd be glad to give you a personal demonstration of ColorVerify. You can view a floor plan of the expo here.
If you can't make the show in New Orleans, contact us and we'll arrange for a Mutoh representative to contact you and discuss ColorVerify's unique solution to process control management.