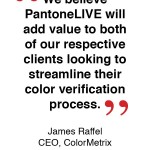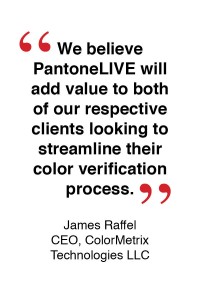 We are pleased to officially announce our accredited partner status with X-Rite Pantone. This agreement will give our customers a seamless way to access the PantoneLIVE color library. ColorMetrix solutions will provide a seamless user interface for PantoneLIVE.
PantoneLIVE and ColorMetrix developers plan to launch during summer 2013.
The official press release is below. Meanwhile, if you have any questions about ColorMetrix solutions, PantoneLIVE or the partnership, please contact us.
ColorMetrix and X-Rite Pantone
Partnership Announcement

Grand Rapids, Michigan (PRWEB) April 04, 2013

X-Rite Inc. with its wholly owned subsidiary Pantone LLC has reached an agreement with ColorMetrix Technologies LLC to offer a seamless way for users of its VerifiedColor software to fully utilize the power of PantoneLIVE™ Color Libraries.

"Packagers, converters, wide-format printers and other customers that use VerifiedColor software to validate colors will save time and improve the accuracy of workflows throughout their supply chains with the new PantoneLIVE user interface," said James Raffel, CEO of ColorMetrix.

ColorMetrix, a Milwaukee-based developer and provider of color validation software, is currently developing the VerifiedColor version that connects with PantoneLIVE, with an expected launch date in summer. X-Rite Pantone is a worldwide leader in color standards and the design and manufacture of color management solutions for printing, packaging, photography, graphic design, video, and industrial applications.

"We believe PantoneLIVE will add value to both of our respective clients looking to streamline their color verification process," Raffel said. "VerifiedColor takes custom spot color libraries and manages them with a state-of-the-art workflow and database system."

PantoneLIVE is a cloud-based, color management service that is supported by an ecosystem of industry-leading solutions and that maintains digital color libraries to guarantee accurate color communication for any supplier around the world. Brand owners and other approved members of the supply chain can manage digital access rights and facilitate color communication across packaging materials from design to production – helping minimize color revisions, creating go-to-market efficiencies and ultimately lowering development costs.

"We are very pleased to be working with ColorMetrix on providing this solution to its customers, many of whom use Pantone's universal color language," said Iain Pike, market director for PantoneLIVE. "Our new relationship with ColorMetrix is another example of how software providers and developers can tap into the power of PantoneLIVE seamlessly as a way to add value to their products in a relatively inexpensive manner."

About ColorMetrix
ColorMetrix Technologies LLC has been providing cloud-based software worldwide for end-to-end verification that color is in control during the design and print process since 1994. The verification software for virtual and hard-copy processes includes monitors, ink jet proofs and press products. ColorMetrix serves industry leaders in packaging, proofing and brand color management.

About X-Rite
X-Rite, Incorporated, is the global leader in color science and technology. The company with its wholly owned subsidiary Pantone LLC develops, manufactures, markets and supports innovative color solutions through measurement systems, software, color standards and services. X-Rite's expertise in inspiring, selecting, measuring, formulating, communicating and matching color helps users get color right the first time and every time, which translates to better quality and reduced costs. X-Rite serves a range of industries, including printing, packaging, photography, graphic design, video, automotive, paints, plastics, textiles, dental and medical. For further information, please visit http://www.xrite.com.