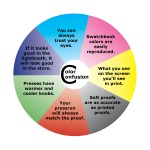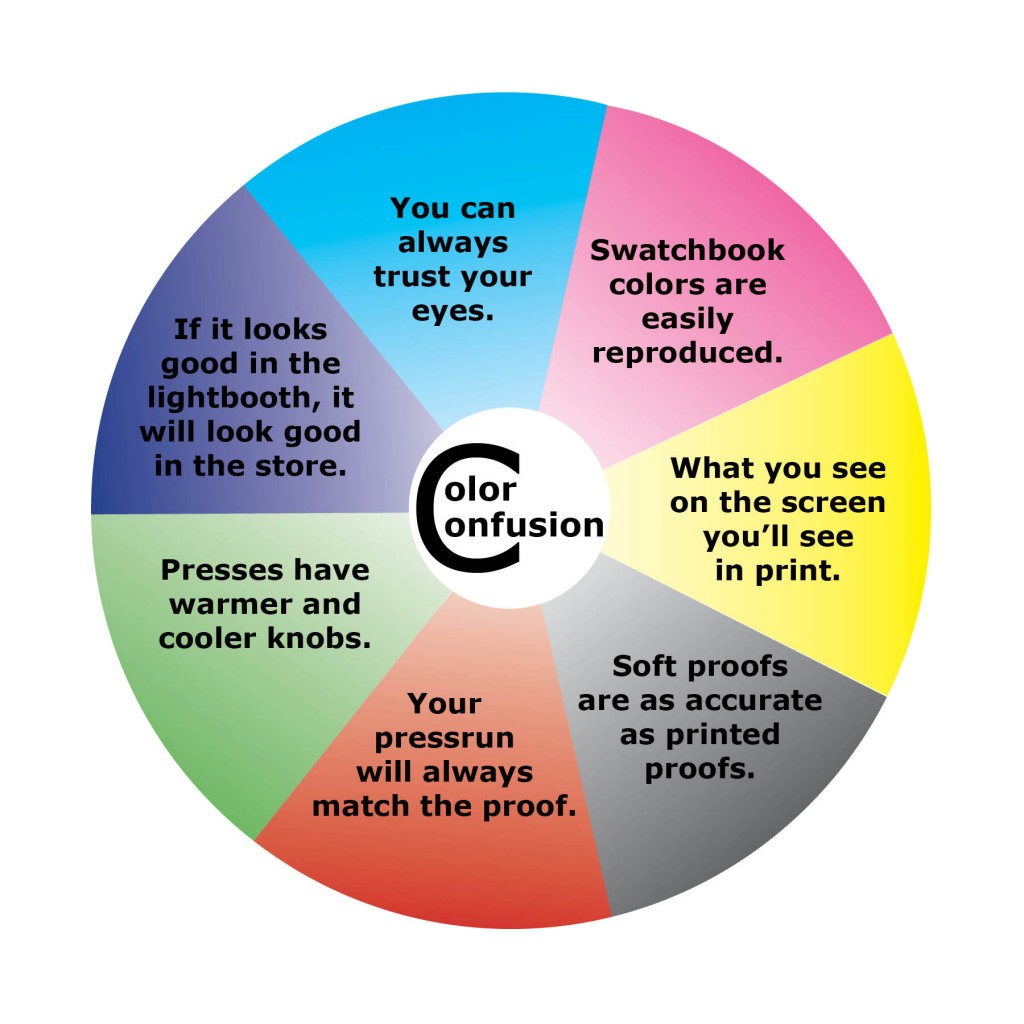 Last week, our CEO Jim Raffel previewed our "Color Control Myths and Mysteries" talk, which we will be presenting at the GAA Publishing and Premedia Conference next week. In his preview, he introduced an interesting optical illusion and discussed whether or not we could trust our eyes when it comes to color.
Indeed, trusting our eyes to correctly identify color will be our opening for our presentation; but we have several other myths – or shall we say misconceptions – that we plan to talk about as well.
The graphic included with this post will be one of our introductory slides in our presentation. It displays seven different color myths; each of which we'll debate from the point of view of a color technician (Jim) versus a creative or graphic designer (me).
The complication of color confusion
These myths that Jim and I plan to discuss next week are all common misconceptions that make communication between printers and creatives difficult and sometimes lead to what we refer to as color confusion.
In my former career as primarily a graphic designer, I didn't care how color was created or why it failed when it did. I only wanted the color that I used in my design to appear correctly in the printed piece. I didn't like being told by a printer that I couldn't place a predominantly yellow ad on a certain page in the newspaper because it was on the same printing form as a page with an orange ad.
To be fair, the environments I worked in didn't necessarily encourage or utilize color correcting techniques such as monitor calibration or process control in general. Still, color confusion was ever present and frustration was felt by me as well as the printing companies with which I worked.
It is precisely these types of real-world experiences and anecdotes that Jim and I plan to incorporate into our "Color Control Myths and Mysteries" presentation.
Check back next week for more insight
Since our presentation takes place on Tuesday, Nov. 13, we will post about our takeaways from the talk and the conference in general later in the week. We hope to be able to share our experiences with you then.
In the meantime, if you have any suggestions or experiences you'd like to share about color confusion, myths and mysteries, please feel free to leave a comment below.