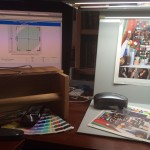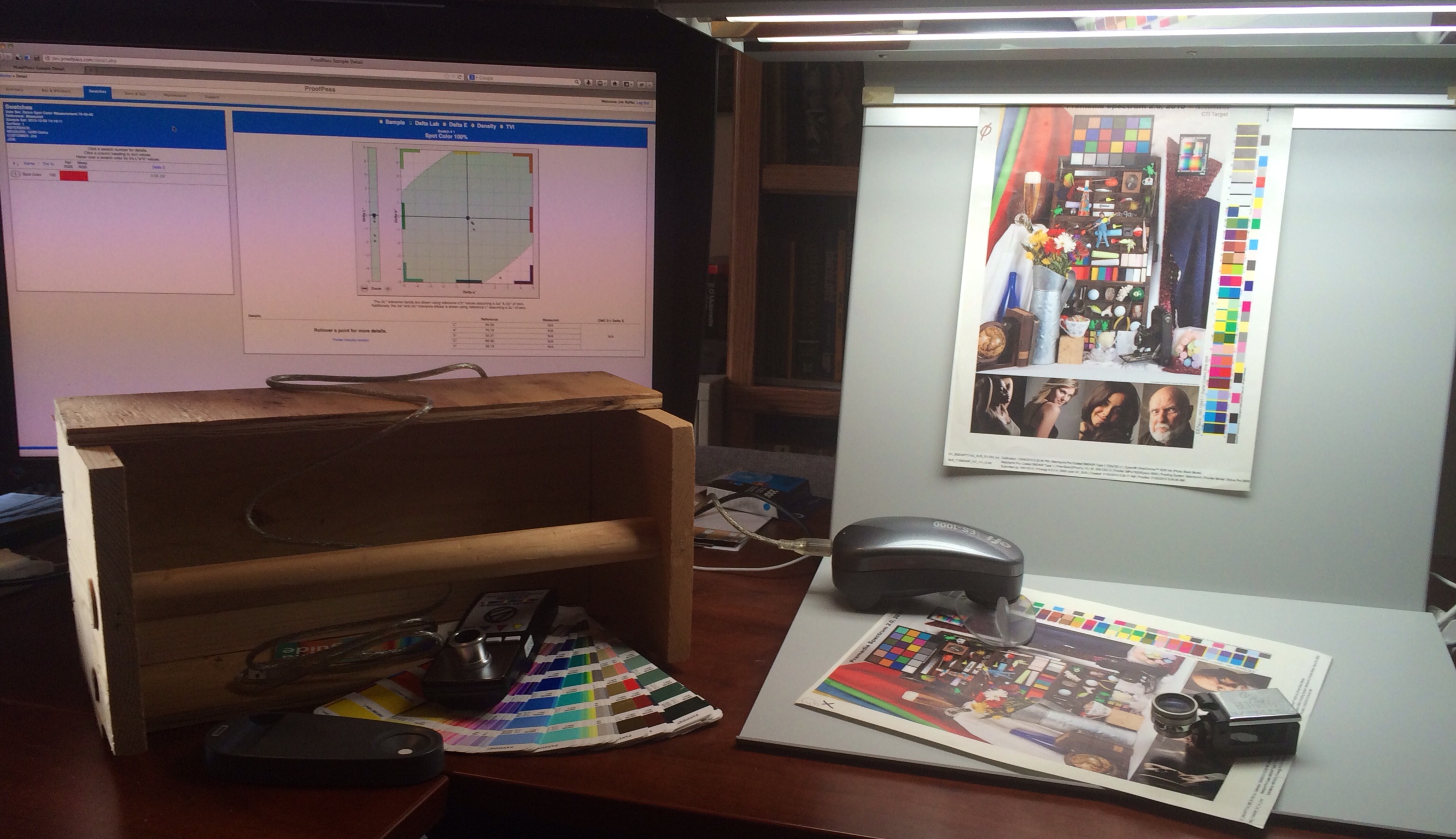 Spring is a great time of year to think about cleaning; so we decided this would be a good time to share a list of the essential verification and process control tools you should have in your color toolbox.
Our Recommended Color Toolbox
The following list includes half a dozen items that anyone serious about color verification and process control should own. We have all these tools in our office; although some of them are a little tired and need to be updated.
Color Viewing Booth
In order to properly assess color on printed samples, the surround lighting and viewing conditions need to be controlled. The right way to do this is with a booth manufactured to conform to the ISO standards for color viewing. You can find such booths from our friends at GTI Graphic Technology, Inc. and Just Normlicht, Inc. The booth you select should also have a dimmer function so you can mimic the illumination of your color calibrated monitor (see the next section).
Color Calibrated Monitor
If you're going to assess color on your monitor, then it needs to be capable of calibration to the ISO standards. If you can get the color right on the monitor the first time, it can save several rounds of hard copy proofing. Time and material cost savings alone could be enough to justify the monitor in a fairly short period of time. You can find these monitors at BenQ and EIZO.
There is something about being able to fan through the Pantone book to find a swatch of your exact color match. While there are limits to how that color will reproduce, it is a good quick visual check of a specified color. You also can make use of digital representations of the library such as PantoneLIVE, which ColorMetrix now supports in our VerifiedColor solution.
Spectrophotometer
The human eye is a great way to evaluate and compare colors. The problem is that the human eye gets tired and ages. In addition, no two human eyes see color exactly the same. That means that there are plenty of instances when color evaluation should be left to instrumentation such as a spectrophotometer. Many of these devices are traceable to international standards and – when properly factory certified – are extremely precise ways to evaluate color. At ColorMetrix, we like working with the instruments from X-Rite and Techkon.
Software
While spectrophotometers are great for measuring color accurately, they do have their limits. Those limits can be lifted by connecting the instrument to a software solution. Software for measuring color adds the ability to evaluate multiple measurements from a single sample all on one screen or web page. The results can then easily be stored for later review and pushed to the cloud so anyone can see the results. This is what our ProofPass and VerifiedColor solutions do.
Magnification Loupe
Sometimes it helps to be able to magnify all those tiny dots that make up process color printing. With a magnification loupe, you are able to see the results of ink laying down on a substrate more clearly. This allows you to diagnosis problems that occur on a printing press or even on an InkJet output device. Our friends at Beta Industries have a nice lineup of magnification devices.
What's in your color toolbox?
This list is by no means exhaustive, so we thought we'd end by asking what's in your color toolbox? Go ahead and leave a comment and tell us about your preferred color tools.