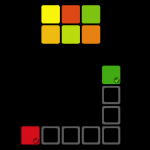 Note: This post is part of the Color Conversations series. Each month, we will post an article pertaining to color. At the end of the month, we will hold a one-hour webinar related to the topic. The webinar will be held at noon CST on Friday, Jan. 30. Click here to register. 
Recently, I was browsing the iTunes app store and came across a puzzle game that caught my eye. As the Project Manager of ColorMetrix Technologies, I often find myself searching for color related material and new technology related to color. That particular day, I discovered Blendoku.
Blendoku is a color blending/arranging game. The objective is to use swatches to fill in empty spaces on color palettes to fit vertical and horizontal patterns to display progressive steps in color ranges and blending.
Blendoku has several stages: simple, medium, hard and master. Within each stage are many levels, which generally increase in the difficulty of the color game as you go.
How the game works
Simple Level 1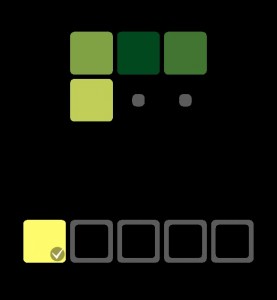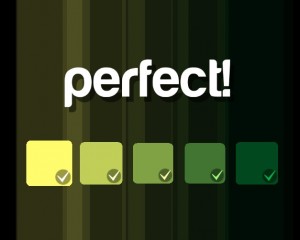 At left is what the game palette looks like in Simple Level 1. The objective is to fill in the color palette at the bottom using color blending (from light to dark in this case) with the swatches at the top of the screen. You do this by touching and dragging each swatch to an empty space in the palette.
If you have trouble, you can use your looking glass (if available in that level) in the bottom toolbar to solve one of the swatches for you. You are also timed on how quickly you can solve the level compared to a world average.
When all swatches have been placed correctly, you'll get the "perfect" screen and be able to move on to the next level.
Seems pretty easy, right? Well remember that the levels get increasingly harder as you go through them. Let's take a look at the Simple Level 9 beginning palette and the solution.
Simple Level 9
In this level, you'll notice that color blending needs to happen along horizontal and vertical lines. On the left is the beginning palette and on the right is the solution.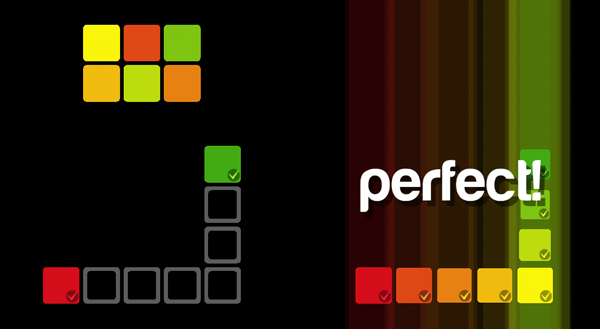 A color theory experiment using Blendoku
Now that you have an understanding of how this puzzle game works, I'll share the color theory experiment I conducted over the past several weeks using Blendoku.
Color theory can be complicated. The way people see depending on their gender, age and their visual environment can affect how color is depicted to the viewer.
I thought it would be interesting to have different people from different backgrounds of different ages in different environments play the game. My experiment included two males and two females (including myself). Following are the results from the four game plays.
---
Jim Raffel, CEO of ColorMetrix Technologies
Gender: Male
Age: Low 50s
Device: iPad Mini
Environment: On a plane, early morning, sunlight glaring off the screen
Condition: Fresh and rested eyes
Stage played: Simple
First problem level: 9
Highest level played: 27
Comments: Jim played Blendoku after waking up at 3 a.m. for an early morning flight. During his flight as the sun was rising, he played the game. He said he did well until level 9, which was the first level in the Simple stage that required color blending both horizontally and vertically. This level also included shades of yellow, which is a known color viewing weakness in males and especially older males. Jim admitted that this was the first level where he needed to use the helper looking glass tool to solve the puzzle. A combination of the different color blending palette, early morning sun glare and perhaps the color yellow being involved in the puzzle probably added to his difficulty. However, Jim was able to solve many consecutive puzzles quickly and without help in following levels with his last completion being level 27.
---
Gender: Female
Age: Early 30s
Device: iPhone
Environment: At home, late at night, incandescent light
Condition: Physically exhausted
Stage played: Simple
First problem level: 16
Highest level played: 106
Comments: Like Jim, Traci has a background in color – just not for as many years. She said she played Blendoku late at night; but even physically exhausted she solved most of the puzzles quicker than the world average time. Being female, younger and familiar with the color industry most likely helped her solve puzzles efficiently despite being tired. It's also pretty impressive that she played the game on a smaller screen on her iPhone and did as well as she did. Her word-for-word evaluation of the game:
"Great for color geeks and a good way to identify any color ranges that are easier or harder to work with. Fatigue makes it harder to see differences between colors and instinctively understand where swatches belong. If a printer operator doesn't like this game, s/he should not be visually evaluating color!

Evaluating a printer's color through data is like being the world Blendoku champion with a perfect score in less than half of the world average time. Every. Single. Time."
---
Shelby Sapusek, Project Manager of ColorMetrix Technologies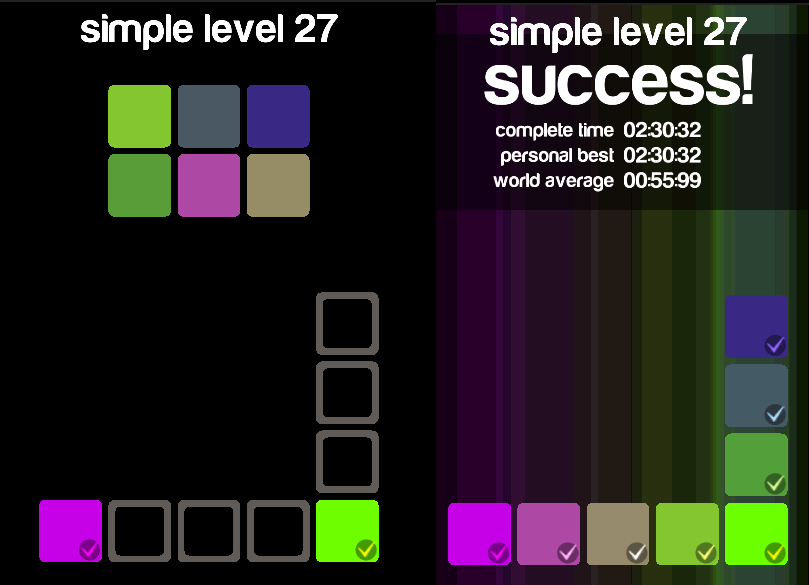 Gender: Female
Age: Late 30s
Device: iPad Mini
Environment: Daylight through windows, no artificial light
Condition: Day time over several days at approximately the same time, no fatigue
Stage played: Simple
First problem level: 27
Highest level played: 37
Comments: My color education lands somewhere in the middle of Jim's and Traci's number of years in the industry. As the author of this post and the conductor of this experiment, I thought it was important that I play the game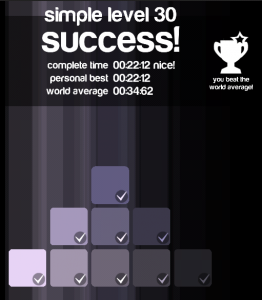 and share my experiences as well. I found Blendoku very addictive. My play time spanned over several days; but I always played around the same time of day in the same spot in my house and with only the light coming from windows. I'm not sure why I had so much trouble with Simple Level 27. Even after using the looking glass helper tool, I was unable to see the correct color ranges right away. I think the beige swatch threw me off for some reason. I played 10 more levels with pyramid palette layouts like Simple Level 30 (which you would think would be decisively more difficult to solve) with no trouble and without using the looking glass. I also didn't have any trouble with the beginning levels of the medium difficulty stage. I looked at the hard and master levels but I didn't try them. They looked pretty intimidating. I included examples of those stages and levels at the end of this post.
---
Anonymous, No Color Background or Experience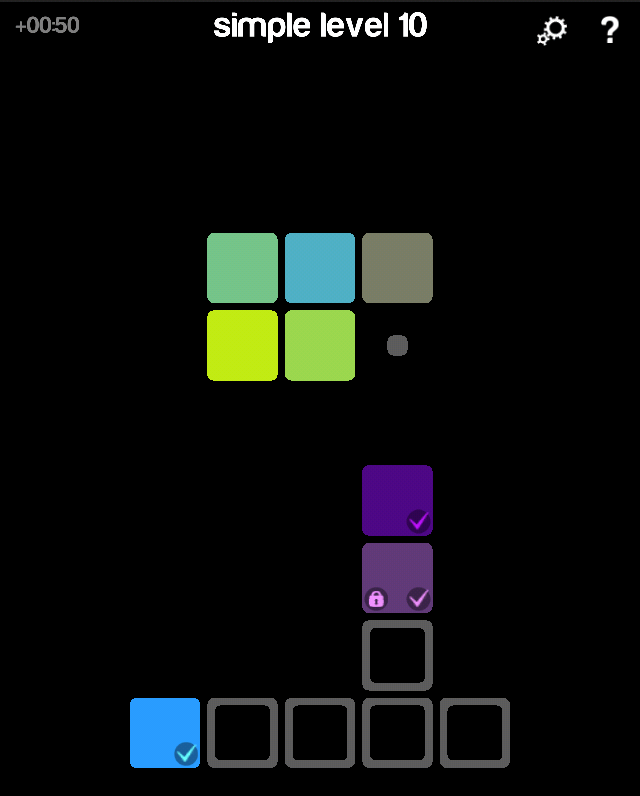 Gender: Male
Age: Late 30s
Device: iPad (not Mini)
Environment: At night, light from fireplace
Condition: Not feeling fatigued, but had been awake for more than 12 hours
Stage played: Simple
First problem level: NA
Highest level played: 10
Comments: I decided it wouldn't be a good experiment if only color professionals played Blendoku. I asked a male in his late 30s with no background in the color industry to download and play the game. I asked him to play just the first 10 levels of the Simple stage. After seeing how the first level worked, he was able to complete the next nine with almost no trouble and he never used the helper tool. I found this impressive because he was playing in front of a fireplace which served as the only light after working at a computer all day. However, he was also playing on a larger device than anyone else did. His final level 10 wasn't easy either with its cross palette template. But he was able to solve it rather quickly without color expertise.
---
Want to try Blendoku?
Blendoku is available as a mobile app through Apple iTunes and Google Play. You can view a video of the game play as well. Be wary of the hard and master levels though. They don't look very easy.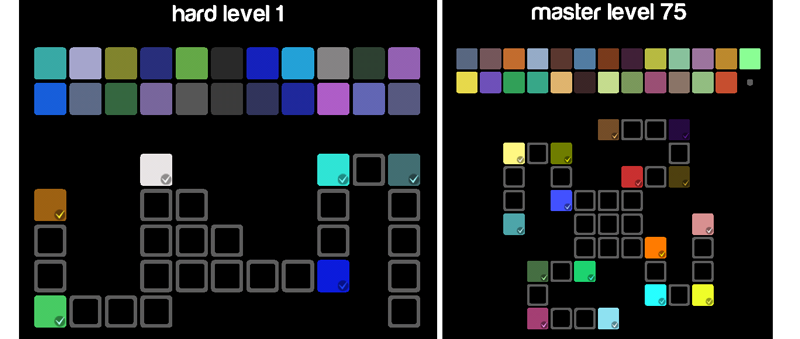 [pl_raw][pl_button type="success" link="https://colormetrix.com/color-conversations/" size="large" target="blank"]
Click here to view the Color Conversations webinar videos
[/pl_button][/pl_raw]