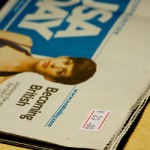 Note: This post has been re-purposed for ColorMetrix.com. It was originally posted by ColorMetrix CEO Jim Raffel on his personal blog on Sept. 12, 2011. We've condensed it down for the purpose of this blog, but if you'd like to read the original, click here.
We at ColorMetrix are obviously fans of color and color technology. Therefore, you'd think we'd be huge fans of USA Today, the first newspaper to really take advantage of color in the printing industry, right? Wrong. On a recent business trip, ColorMetrix CEO Jim Raffel and project manager Shelby Sapusek picked up a copy of USA Today and critiqued it for content, advertising and, of course, color. Below is a roundup of their discussion and findings.
Starting at the beginning
A quarter century ago, USA Today hired dozens of graduates a year from Jim's alma mater, Rochester Institute of Technology (RIT), to manage the quality of their color printing across the country. They helped engineer one of the best high-quality and distributed color printing system in the history of printing, much less the newspaper industry. They were also part of the first uniform daily news delivery system across 50 states. Remember, this is well before the internet, so being able to read the same paper everywhere each day was unique.
However, the problem was at the beginning
In hindsight, the problem is that Gannett, publisher of USA Today, decided to make a big deal about the color and not necessarily the content and uniform delivery. They promoted and sold the newness of color in every section. They didn't just sell that excitement to the consumers. If they had, things might have turned out okay. No, they had to sell the newness of color throughout the paper to advertisers. That was the fatal mistake.
They went to Madison Avenue ad agencies and promised the kind of color quality that at the time you could only find in weekly and monthly magazines. Eventually, they got close at USA Today. This was back when they used good paper and actually had a color quality representative at each print site every night when the paper printed. Now, they print on paper with lesser quality and it seems no one pays attention to the color anymore. How could they? The color bars that used to be part of the design are long gone with the reduced size of the paper.
When the advertising doesn't come…
As we flipped through the paper, we counted up the ads. Ads? What ads? Back in the day, a paper needed somewhere between one-third and half the page space to be ads to be profitable. This particular paper had less than a fourth of the page space devoted to ads. So what happened? Where did the advertisers go?
Imagine this: Madison Avenue print ad dollars start shifting to USA Today and you own a big local daily paper. What do you do? Well, you go out and buy a press and all the prepress equipment necessary to produce a color newspaper of course! If the customer wants color, we'll give them color. Of course, most newspapers didn't hire RIT grads to run a color department, if they even had one.
The problem gets further compounded because newspapers were charging more for those ads and having to run make good ads or not get paid. It became a big mess. The lease on the new press wasn't going away either. Newspaper press prices were measured starting around $10 million. They had a press capable of printing color so they decided color graphics and photos needed to be focal points of our paper. While that sounded great on the surface, that's how we got to where we are. What they should have been concentrating on was reporting the news. When it comes to newspapers, content should be key.
It probably all works until Craigslist and eBay
As bad as this all is, the industry probably wouldn't have fallen apart as quickly as it did if not for the likes of Craigslist's free classified ads and eBay to sell your old stuff to the highest bidder. However had newspapers stayed out of color, they'd have had huge war chests of cash when this latest threat hit. They'd still have the greatest reporters in the world under their roof.
Instead, most newspaper businesses were gutted shells of their former selves by the early part of this century. They had decided two decades earlier that color would be their last great battle ground. When the internet rolled around, instead of embracing it, they ignored it at first. Then they posted identical content on the web as in the paper but for free.
The aftermath
In the end, the widespread rapid adoption of color across the newspaper industry that followed in USA Today's footsteps is what caused the virtual overnight demise of the newspaper industry. USA Today was not going to kill local newspapers. It just wasn't going to happen. While it's arguable their reporting of national stories was better, there is no way they could cover the local beat; not in every city across the country. Besides there are wire services to provide coverage of the big national and international stories.
So what was the perceived threat? It was color. In the newspaper industry at the time, color was new technology. Think about some of the greatest photographers of all time. Ansel Adams made a career and a great deal of money with black and white photography. What if newspapers had embraced new fonts and graphical capabilities instead of embracing color? That's what companies like Aldus and Adobe were bringing to market at unheard of low prices. Yes, this occurred at the same time.
There was one paper that did do that and became a national powerhouse. The Wall Street Journal relied upon great reporting and cool monochrome graphics until they had a clear understanding of how to utilize color in a profitable way. Being first or even an early adopter of new technology will not always mean you have an advantage. Some of the people and brands that have waited until recently to enter the social media pond are just crushing it.
So watch for new technology. Understand new technology and then build a case for the new technology in your business. Listen to yourself and your gut; not the so called experts. Don't follow the crowd, follow the path that is best for your unique business.